Dataset
The dataset utilized in this challenge is collected in a hybrid electric vehicle (depicted in Fig. 1) with speakers sitting in different positions, including the driver seat and passenger seats. The total number of speakers is over 160 and all of them are native Chinese speakers speaking Mandarin without strong accents. To comprehensively capture speech signals of the entire cockpit, two types of recording devices are used: far-field and near-field recording devices. Fig. 2 (a) illustrates the setup for the far-field devices. 8 distributed microphones are placed at four seats in the car, which are the driver's seat (DS01C01, DX01C01), the passenger seat (DS02C01, DX02C01), the rear right seat (DS03C01, DX03C01) and the rear left seat (DS04C01, DX04C01). Additionally, 2 linear microphone arrays, each consisting of 2 microphones, are placed on the display screen (DL01C01, DL02C02) and at the center of the inner sunroof (DL02C01, DL02C02), respectively. All 12 channels of far-field data are time-synchronized and included in the released dataset as far-field data. Fig. 2 (b) shows the setup for the near-field data. For transcription purposes, each speaker wears a high-fidelity headphone to record near-field audio, denoted by the seat where the speaker is situated. Specifically, DA01, DA02, DA03, and DA04 represent the driver seat, passenger seat, rear right seat and rear left seat, respectively. The near-field data only have single-channel audio recordings. Additionally, a sizable real noise dataset is provided, following the recording setup of the far-filed data but without speaker talking, to facilitate research of in-car scenario data simulation technology.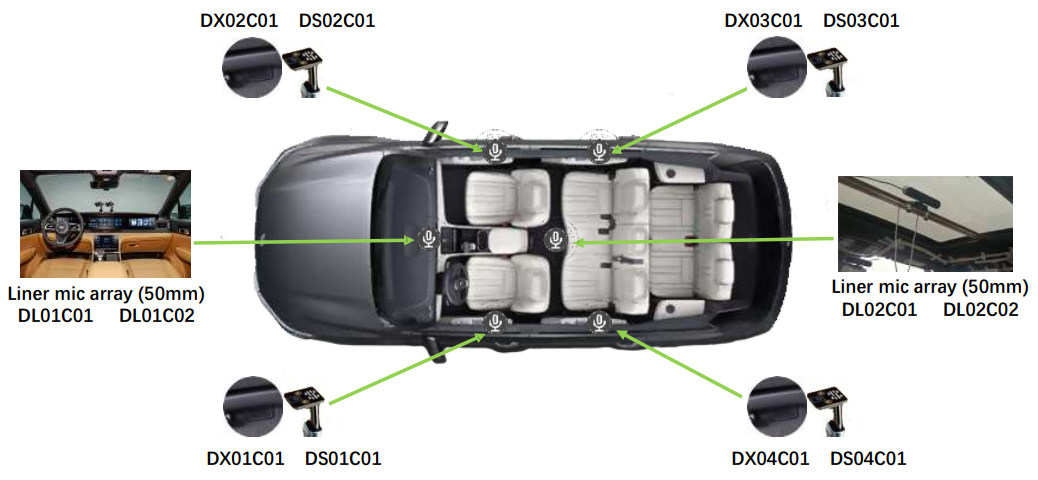 (a) The placement of far-field microphones
(b) The placement of near-field microphones
Figure 2: The diagram of recording devices placement
As the realistic acoustic environment is complex and involves a variety of noise, we carefully design the recording environments to ensure comprehensive coverage. Specifically, we achieve this by varying the following factors:
Road driving condition: downtown street and highway.
Vehicle speed: parking (0km/h), slow (below 40km/h), medium (between 40km/h and 80km/h), and fast (between 80km/h and 120km/h).
Air-conditioner: off, medium and high.
Music player: off and on.
Driver-side window and sunroof: open one-third and close, close and open halfway, both open halfway, both close.
Driving time: daytime and nighttime.
In-car background noise: caused by the status of windows, sunroof, music player, and air conditioner.
Interfering speaker: when the target speaker (driver or one of the passengers) is speaking, speech from other people is regarded as interfering noises.
By combining these factors, we finally form 60 different scenarios covering most in-car acoustic environments.
Overall, the challenge dataset contains over 1000 hours (by oracle segmentation) of in-car chatting data in total, which is divided into training (Train) set, development (Dev) set, evaluation sets for Track I (Eval1) and Track II (Eval2). For each set, far-field audio of all channels will be included, but only the Train set will contain near-field audio. Particularly, for Eval1, oracle timestamps will be available, whereas for Eval2, it will not be provided, requiring participants to utilize speaker Diarization (SD) techniques for audio segmentation. The additional far-field noise data (Noise) is about 400 hours.
Moreover, we will provide over 400 hours of far-field microphones recorded real in-car noise for participants to explore the simulation technology. The total number of participants is over 160 with balanced gender coverage and all participants are native Chinese speakers speaking Mandarin without strong accents.